Test Methods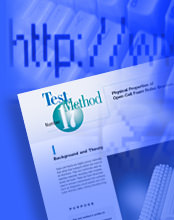 Texwipe has been the leader in contamination control products for over 55 years and testing our products to the strictest standards is paramount.
We employ test procedures (Basis Weight, Absorbency and Non-Volatile Extractables) from standards organizations such as the American Society for Testing Materials (ASTM), the Association of the Nonwoven Fabrics Industry (INDA) and the Institute for Environmental Sciences and Technology (IEST). We innovated some testing (Particle testing using Scanning Electron Microscopy (SEM) Enumeration, Ion Testing with Ion Chromatography and the measurement of fabric surface resistivity) and developed new accurate and reproducible methods.
We have been diligent in publishing this information in open literature and in making our test methods available.
Select any of our product families in the table below for more information.
Test Method Number & Type
Description

Wipers

Nonvolatile Residue (NVR) in Wipers and Other Material

Matter Extractable from Wipers and Other Materials.

To determine the mass of material extractable from a wiper (or other item) using a given solvent.

Swabs (NVR)

Determining NVR Extractable from Swabs

Procedure for Determining the Nonvolatile Residue (NVR) Extractable from Swabs in a Given Solvent.

One form of swab contamination is the soluble matter extractable in a given cleaning solvent (nonvolatile residue or NVR). NVR contamination can remain on a surface after cleaning with a wetted swab.

Wipers

Ions

The Determination of Ions in Wipers by Ion Chromatography (IC)

A rapid analytical technique for qualitative and quantitative determination of a wide variety of ionic species.

Wipers

Basis Weight

Determination of Basis Weight, Absorbency and Rate of Absorbency of Wipers

Knowledge of wiper basis weight is important since it allows the expression of other measurements in units of either weight or area.

Wipers

Particle Release from Wipers

Particle Release from Wipers and Other Materials Under Conditions of Moderate Mechanical Stress

This test method details the extraction and enumeration of particles and fibers released from wipers (or other materials) in a wetted state, under conditions of moderate mechanical stress.