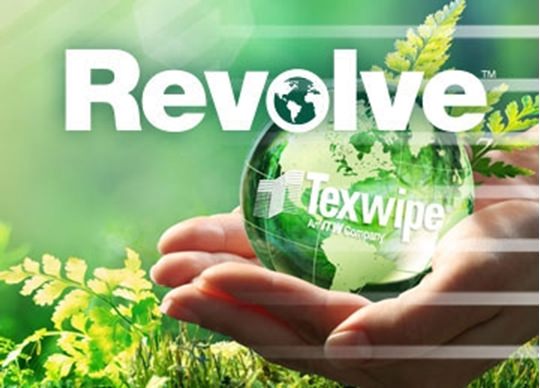 Revolve™ Sustainable Products
The Revolve™ line of sustainable cleanroom products by Texwipe® (patent pending) is an evolutionary innovation in the way polyester wipers and mop covers are manufactured.
Until the introduction of the Revolve™ line of products, polyester (PET) yarn has always been manufactured from virgin material.  In contrast, the Revolve™ line of cleanroom consumable products are made from post-consumer polyester (rPET) yarn made by upcycling plastic water bottles.
Texwipe® did extensive research on the performance characteristics of rPET-made polyester compared to virgin polyester material.  The rPET materials were processed through Texwipe's manufacturing lines and demonstrated comparable properties as virgin material.
With these results, a new line of sustainable products was born, culminating in the launch of Revolve™.
Revolve™ products contribute to sustainability goals, reducing the amount of post-consumer water bottles going into landfills and reducing the level of carbon emissions.
Calculate your potential greenhouse gas emission savings below.
Calculate your Greenhouse Gas savings by selecting the product and quantity below.